Steelers Diontae Johnson one of the best receivers vs man coverage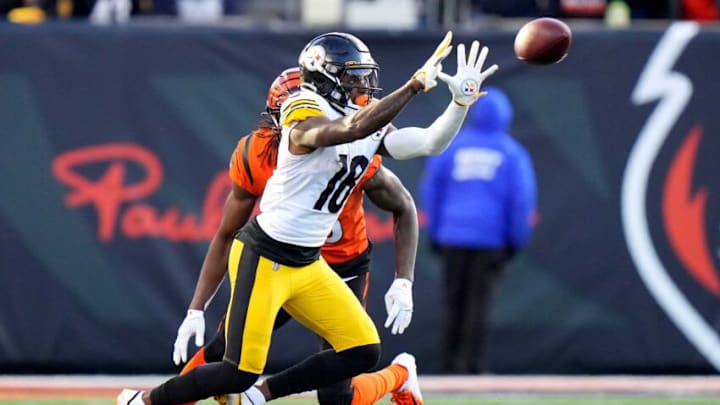 Pittsburgh Steelers wide receiver Diontae Johnson (18).Pittsburgh Steelers At Cincinnati Bengals Nov 28 /
Pro Football Focus charted Steelers Diontae Johnson as one of the best wide receivers against man coverage. Here's why this trait is so important.
There's no perfect way to evaluate a wide receiver in the NFL. One of the worst ways to do so is to simply look at raw statistical production, as this doesn't give a very indication of how good a player actually is compared to his peers.
Take JuJu Smith-Schuster, for instance. In 2018, JuJu had a monster breakout campaign as he racked up 1,426 yards and 7 touchdowns. However, it was pretty easy to see that this was much more because of his opportunity rather than elite play at the wide receiver position.
With a prime Ben Roethlisberger and Antonio Brown drawing double-coverage across from him, it was easy for JuJu to carve out production — especially when you are peppered with 166 targets. Because of this, I wasn't surprised to see his production come back down to earth over the past three seasons.
Diontae Johnson is currently in a much different situation. To begin his NFL career in 2019, Johnson's target quality was at the mercy of Mason Rudolph and Devlin Hodges, as Big Ben was on IR with a severe elbow injury that required surgery. Over the past two seasons, Johnson was the number one target for an old and struggling Ben Roethlisberger.
Though Johnson's raw statistical production in 2021 was very respectable (107 catches, 1,161 yards, 8 touchdowns), his efficiency wasn't great as he averaged just 6.9 yards per target and 10.9 yards per reception, via Pro Football Reference. However, these numbers are tied to quarterback play.
Fortunately, there's more than one way to evaluate a receiver. Recently, Pro Football Focus' Timo Riske charted wide receiver success rate vs man coverage since 2019. Johnson's name was one of the highest on the list:
Riske concluded that just three NFL wide receivers since 2019 had a better success rate when going against man coverage than Diontae Johnson (among receivers with at least 300 routes run). Johnson impressively topped players like Justin Jefferson, Tyreek Hill, Amari Cooper, and Odell Beckham Jr.
This is just one factor of many that should be considered when evaluating how good a wide receiver is compared to his colleagues, but it's one of particular importance.
Johnson's success rate vs man is important to Steelers
Despite rarely playing with Ben Roethlisberger during his rookie season, Johnson has been able to rack up 408 targets in his first three years in the league. When a quarterback favors a receiver this heavily, it's usually a pretty good sign that he's doing something right.
That trait that Roethlisberger loved was Johnson's ability to effortlessly create separation between himself and his defender. While Johnson didn't test anywhere near an elite athlete entering the league (with respect to his position), his fluidity and ability to sell his routes are traits that can't be measured.
Johnson is a silky-smooth player who is incredibly difficult to jam at the line of scrimmage. He sells his routes with quick-twitch moves and head fakes that allow him to create ample space to make plays. This is a trait that receivers like Chase Claypool and James Washington don't possess, and it's no doubt why Ben favored him over all of his other options in the passing game.
Beating man coverage is one of the single most important traits a receiver can possess in the NFL, and this is something that should be considered as the Pittsburgh Steelers ponder whether or not to give him a lofty contract extension before the season.