Steelers may look to rookie to fix return game woes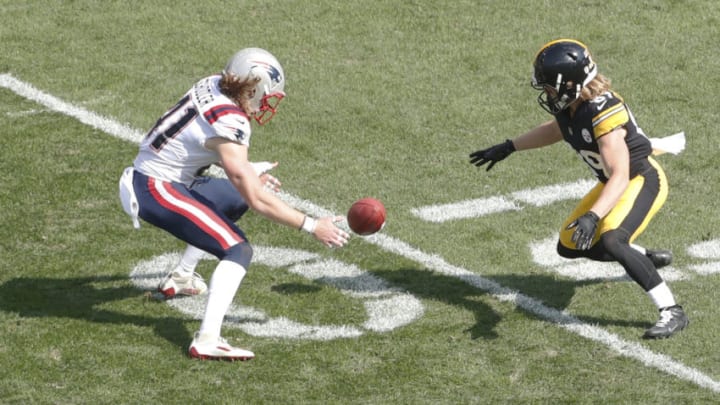 Pittsburgh Steelers wide receiver Gunner Olszewski (89) Mandatory Credit: Charles LeClaire-USA TODAY Sports /
The Pittsburgh Steelers punt return and kick return game has been bad up to this point. 
One of the potential improvements to the roster heading into the 2022 season for the Steelers was the signing of former All-Pro return man Gunner Olszewski in lieu of the departure of Ray-Ray McCloud. While Gunner showed some flashes in the preseason as both a return man and a receiver, he has all but fallen apart during the regular season.
Through the first 4 weeks of the season, Gunner has averaged a pretty bad 5.5 yards per return. However his most significant issue isn't the lack of splash in that department, instead, it is that he has fumbled twice on a total of 5 punt returns so far this year. The Steelers have a banged-up defense and an inconsistent at best offense at the moment. The Steelers need to produce on special teams to have a shot at winning games this season.
The Steelers cannot give up free possessions on fumbled punt returns deep in their own territory. Gunner's lost fumble vs the Patriots was a big momentum shifter in that game. James Pierre was able to recover his fumble in Week 4, but it is a big issue.
The answer for the Steelers may already be within the organization
All the buzz of George Pickens and Kenny Pickett so far this season has led to many fans seeming to forget about a rookie who may be the fastest player on our team and one of the fastest in the entire NFL.
Rookie Calvin Austin III went down in training camp with a foot injury which led to him being placed on IR. However, he was having an outstanding camp. With Austin on IR Gunner won the return job and has assumed a gadget-type role in the offense, quite literally the precise role I pictured Austin fitting into before his injury. While I currently believe Austin is already a better receiver than Gunner, I have yet to see him take an NFL snap outside of training camp.
Calvin Austin III has experience as a return man from college.
In his Junior season at Memphis Austin had one return for a touchdown but averaged over 9 yards a return. In his senior season, he only received 5 punts but brought one back with an average of 27 yards a return his senior year. While his senior season stats are inflated by 1 of his 5 returns being a 94-yard touchdown return, he still averaged close to 10 yards a return on his other 4 punts.
The Steelers need more big plays and with Austin's speed, he could help provide more spark to an offense that had been pretty dormant. Even if he has a hard time getting touches on offense due to the presence of DJ, Claypool, and George Pickens Austin has the right skill set to be able to add more of a big play threat into the role that Gunner is currently filling.
Austin is eligible to come off of Injured Reserve this week. Whether he is upgraded back to the active roster will likely depend on his health. I do believe Austin will get his shot as soon as he is healthy enough to do so. Austin was far too impressive at training camp and had appeared to be running away with the 4th receiver slot until his injury. Combine that with the Steelers' current return man's struggles and the path for Austin to come back and contribute seems to be as clear as can be.